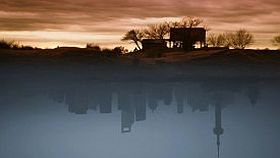 Not bad for documentary interested people to be in the capital of Tunisia these days, where the yearly festival takes place, for the seventh time organised by the the Ness El Fen association with the support of arte France, CMCA, Institut Francais and Mairie de Paris (!). The festival opened yesterday and runs until Sunday the 29th of April.
In the programme there are many unknown titles, new films I suppose, from Palestine, Tunisia (9 films), Lebanon, Palestine (including 5 Broken Cameras) and Algeria. Ness El Fen is also a organiser of dance events and has chosen to show Frederick Wiseman's fílm from the Opera in Paris.
Closing film, with the director present, Vivan las Antopodas! (photo) by Viktor Kossakovsky. Bravo!