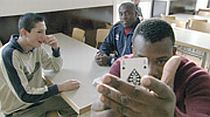 Opening film at the festival: "The Fortress" (PHOTO) by Swiss director Fernand Melgar, who was not present at the screening as his documentary was released in theatres in Japan. The story, a real European one, I would say, at least it could perfectly have been Denmark as location, is told in a Wiseman-like observational style from an institution for asylum seekers. The camera is omnipresent and catches moments of despair and hope from the side of the seekers, the people who wish for a better life in another country than their own and have to go through the endless interviews that are performed to check their stories. It is very moving, but also comic-tragic when you see and hear that the seekers change their stories to get a better chance to stay in what they can only consider as Wonderland = Switzerland. The people who represent the authorities are in general very kind and take part in scenes far away from their own reality, like the white office manager who goes to a mass for black seekers and try hard to find the rythm of the music. Hilarious!
Some people try desperately to get into modern society, other leave it. The documentary of Gianfranco Rosi, "Below Sea Level", has already been awarded several times, so well deserved, for this big film about a series of men and women, who for different reasons have moved to the desert to live a different life in their campers or in buses turned into homes, or in tents. Whatever, the originality is proven to be of huge format, and it is a film made over such a long period, that you sense that the characters are totally confident with the presence of the camera. There is humour but also grief as their back stories are being presented. There is love and argument between them. There are great thoughts on Life. The people come out of the films as individuals and not as weird subjects being observed.
The Fortress, 2008, 100 mins.
Below Sea Level, 2008, 110 mins.