Docs at Venice International FF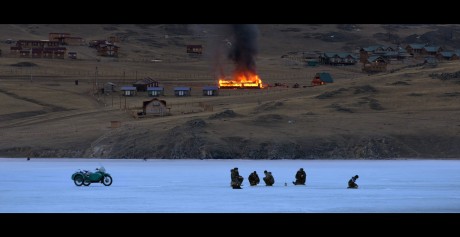 Docs at Venice International FF. The festival (29/8-08/9) announced its program yesterday and I went to search documentaries in the "Out of Competition" section, where they are placed.
Ten titles – as the festival puts it – by established directors: Amos Gitai, Victor Kosakovsky, Emir Kusturica, Sergei Loznitsa, Ron Mann, Francesca Mannocchi & Alessio Romenzi, Errol Morris, Giorgio Treves, Tsai Ming-Liang and Frederick Wiseman.
From the latter, the 88 year old American master of observational documentary, comes "Monrovia, Indiana", 2 hours and 23 minutes, I stole this description from the internet:
"Located in mid-America, MONROVIA, INDIANA, (population 1400), founded in 1812, is primarily a farming community. The film is about the day-to-day experiences living and working in Monrovia, with emphasis on community organizations and institutions, religion and daily life in this farming community."
Errol Morris goes to Venice with "American Dharma" – no description but the fact that Steve Bannon (!!!) is the character. Very actual, indeed.
Sergei Loznitsa is there with his third film from this year, "Process", referring to the Stalinist processes in the 1930'es. I met Loznitsa in Krakow this year, where he told me about this film, with great enthusiasm, having found footage never shown before, "that will change history", he said!
And… the cherry on the cake, after years of waiting for a new film by wonderful Victor Kossakovsky, "Aquarela" (PHOTO) is ready, 89 minutes, a film that contrary to the other I have mentioned, have been extensively written about, mostly on social media – I have taken the description from British Council:
Aquarela' takes audiences on a deeply cinematic journey through the transformative beauty and raw power of water. Filmed at a rare 96 frames-per-second, the film is a visceral wake-up call that humans are no match for the sheer force and capricious will of Earth's most precious element. From the precarious frozen waters of Russia's Lake Baikal to Miami in the throes of Hurricane Irma to Venezuela's mighty Angels Falls, water is 'Aquarela's' main character, with director Victor Kossakovsky capturing her many personalities in startling visual detail.
http://www.labiennale.org/en/cinema/2018/lineup/out-competition