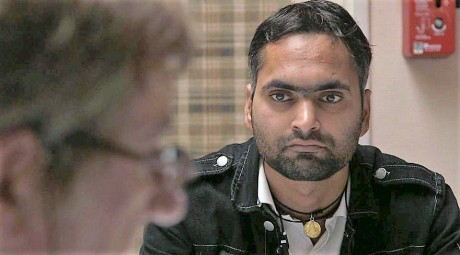 ALICE DIOP: ON CALL
Monsieur Mamadou Diallo. Doctor Geeraert calls for the next patient at the Avicenne Hospital in Bobigny. The patient comes into the small consultation room, where he sits for hours listening to the migrants, who come to get help, migrants without papers.
Mamadou Diallo is in pain. He is from Guinea and has been beaten up by the military. Thats all we get to know about his story and we dont need more. He has stitches in his head, he has chest and back pains, he has no place to sleep, no support.
Doctor Geeraert helps him, as he helps all the other patients, who enter the small room, where there is always a psychologist or a social worker present as well. And the camera is there to look at the patients or at the doctor, and sometimes with a cut to the third person in the room.
Its a brave film. The director has made her aesthetic choice. She invites us viewers to look at faces for 90 minutes. She stays in the room. She does not interfere.
Faces from countries outside France – Guinea, Sri Lanka, South Africa and many others appear on the screen. Faces of pain, eyes without hope,silent cries for help. Or the face of the doctor, who does what he can: making certificates that state whats wrong with the patient, giving them advice where to go for turther help and first of all making prescriptions for pills that can make them sleep, or antidepressants, or painkillers, or appointments for x-rays. Sometimes a patient walks with the psychologist to a room next door for a more intimate talk.
Bureaucracy yes indeed, doctor Geeraert does indeed look at the patients but actually his eyes are focused more at the keyboard of his computer to get his paperwork done. This is an important part of the sound design of the film.
The man on the photo is from Sri Lanka, his English is pretty bad, he knows few words, and his French is non-existent. But visits to the cosultation room are important for him and one day he brings a gift to the doctor and his assistant: the Eiffel Tower!
Also monsieur Mamadou Diallo comes regularly to the doctor. The last time we see him, he brings good news – he has been given asylum status. Oh, what a wonderful scene it is as you can sense the happiness of the doctor – you are now a free man. Yes, but he has still a strong headache, his family is in Guinea and he has nowhere to sleep. But he can now get welfare support. And he puts on a big smile, you get the feeling that he does so because the doctor is happy!
The film puts itself in the fine tradition of French observational cinema and makes you think about Raymond Depardon and of course Frederick Wiseman or the films made by Arne Bro and Anne Wivel in Denmark.
As a Docs & Talks event the film was followed by a panel debate, which mostly was too general in its approach – it was good that Maja Lvbjerg Hansen was there, she is a lawyer and gave the debate a bit power by explaining about the many, many different groups of migrants she has met – and by saying that the political discussion on beggars in Denmark was based on a lie: There are the same amount of beggars in Denmark today as there was in 2001. We look at migrants without work as criminals, she said. The bureaucracy we see in the film, we have the same. I was with a Romanian at International House to have her registered, she as sent from one to the next, and said that this reminded her of Ceaucescu times back home And it seems like the French system is better that ours – they can direct the migrants to other offices for eventual help. We can not do so.
France, 2016, 90 mins.