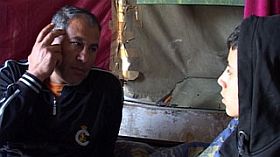 The programme of the upcoming documentary festival in Barcelona, January 31-February 5, has been published. The selection is rich in quality and variety, and as usual the festival has its categories and for the second year the festival is competitive.
Apart from the Official Selection, there is a section with current affairs documentaries entitled DocsAffairs, a talent category with the name Doc! Doc! Doc!, films for school children, master classes (including one with Russian director Viktor Kossakovsky, whose "Vivan las Antipodas!" will be screened in the official selection) and a section called Finisterrae with "films that explore innovative ways to portray reality, distancing themselves from the canonical models and using new formal resources. As its name indicates, Finisterrae will bring us documentaries that are positioned at the fringes or outer limits of the production; works that have opted for a pioneering language. Indeed, all of these films involve an implicit research and formal risk." Sounds exciting!
Many films come from other international festivals, often with awards, like Polish Pawel Kloc's exciting and controversial "Phnom Penh Lullaby" or Ruthie Shatz & Adi Barash' "The Collaborator and His Family" (photo), shot in Tel Aviv where the Palestinian, who spied for Israel fights to survive and gain respect from the Israeli authorities. "Rouge Parole" by Tunisian Elyes Baccar is a fresh documentation and interpretation of the revolution in the country and "Give Up Tomorrow" by Michael Collins and Marty Syjuco is the touching story about Paco, a Philippine man who has been in jail for years for a murder that he could not have committed. In a master class the two behind the film will give an inside to how they through the film were able to change the situation of Paco.
The pitching forum of DOCSBarcelona celebrates its 15th edition with the presentation of 24 projects to around 30 international broadcasters, distributors and representatives from funds and markets. On top of that a special mini Latin Forum is arranged with 6 specially selected projects from that region. Barcelona is not only professional top football, it is also a unique place for the best of the best of the creative documentary genre.