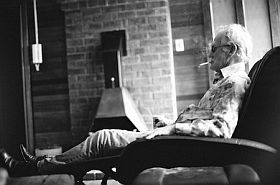 On the night where FC Barcelona stars travel their city in an open bus, to celebrate the championship with their fans, it is the 22nd league title for the one and only club, this blogger follows on Danish television, whenever they play, it is time to look ahead to the programme of another institution in the Catalan capital:
… DocsBarcelona, which is an International Documentary Film Festival and a Pitching Forum. The festival runs from May 29 till June 2. The pitching forum is scheduled for May 30 and 31. A one-day interactive documentary seminar takes place May 29.
As head of the pitching forum and as co-programmer of the festival's official section with Joan Gonzalez, director of DocsBarcelona, I will be reporting on this blog both during and (as now) before the event. Let me give you some overall information at this point:
The festival's official section presents 19 films, including (let point out 5 titles for now) Jay Bulger's wonderful portrait of the mad genius drummer Ginger Baker, "Beware of Mr. Baker" (photo) is the title, full of music and archive from the times of Cream. Alan Berliner's "First Cousin Once Removed", what an uplifting and warm film about Edwin Honig, who suffers from Alzheimer's disease, Berliner is a master in montage. Multi-skilled performance artist, Palestinian Khaled Jarrar has made "Infiltrators" from the Jerusalem wall, important and shameful documentation of humiliation of human beings as it happens right now. "Noise" is from close-by, in Tel Aviv, where Israeli director Dan Geva experiences a drama of constant noise that in the film is developed cleverly to more than a physical problem. And "The Act of Killing" by Joshua Oppenheimer, for documentary interested people, I think no further introduction is needed.
Two master classes are scheduled to take place in Gaudi's masterpiece, La Pedrera: One is with Michael Glawogger, whose "Whore's Glory" is in the official section, the other with Fredrik Gertten on "Bananas!" and "Big Boys Gone Bananas!", both films are shown at the festival.
I will come back to the pitching forum and its content on a later occasion.
Football championship is won, the next adventures will come from DocsBarcelona 2013.