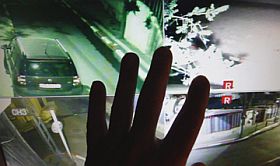 As programmer for a festival it is always a good idea, I would almost say it is an obligation, to go and see the films you selected on a big screen and with an audience. It is no secret that most films are selected on the basis of a computer screening… will it work on the big screen?
I did the test on three occasions, two of them with the director or producer present.
Dan Geva's "Noise" (photo) did indeed and it was a big inspiration to listen to the Israeli director's speech after the screening, where he took the subject of the film and its comedy elements to a serious reflection on what it means to be a filmmaker as well as a person in constant doubt of what it means to live, simply. A festival is there to create the meeting of a film and a filmmaker with the audience, and Geva gave us a fine insight to both the art and the craft of making documentaries. He referred to Flaherty, who set everything up, and to Grierson, who was there to send a message, as Geva does at the end of the film, where the filmmaker from his noisy location in Tel Aviv gently communicates via his outdoor loudspeakers: please a bit less noise!
Palestinian Khaled Jarrar's "Infiltrators" – without the presence of the director here in Barcelona – a film that I have followed from the sidelines, in workshops in Greece and in Ramallah, I can only say that this film about apartheid in Israel again made me shake my head in anger and sorrow, this is the world of today, how can we allow that human beings are being treated like this having to climb a wall or going through a tunnel of dirt or caressing the hand of your mother through a hole in the so-called separation wall. It is a film which in content and intensity is painful to watch, simply!
Producer Signe Byrge represented and presented "The Act of Killing" in a brilliant way giving basic background information about this most talked about and praised documentary in the last year. It was the director's cut that was shown at DocsBarcelona, 159 minutes, and seeing it on a big screen with almost 200 people makes a difference, of course. Signe Byrge talked about the screenings in Indonesia and stressed that the film is not a historical film about the killing of communists in the country in the mid 1960'es, it is a film about Indonesia today with the militant paramilitary groups still very much present and active.
http://realscreen.com/2012/12/17/infiltrators-wins-two-at-dubai-film-fest/