DocsBarcelona – Films to Come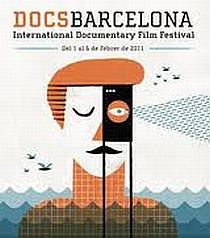 … hopefully, because there were many talented directors with interesting and intriguing project proposals at the 14th edition of the Pitching Forum in Barcelona, see below. This posting does not allow to mention all the 23 projects which were presented, you will get 3 of them, which I both hope and think will be completed within the next couple of years:
Local director Albert Solé (known for the Goya Prize awarded "Bucharest, Memory Lost") presented a film project to be directed by Sebastian Alfie. "Gabor" is the name of the film, referring to the blind photographer and d.o.p, of Hungarian origin, who lives in Spain and runs a renting company for equipment. The film is about him and the young director, their friendship and their ambition to make a film together. High quality material, a charismatic main protagonist and a chance also to look back to his Hungarian past.
Young producer Dagne Vildziunaite from Lithuania was very convincing in her presentation of a film about "The Father", a seventy year old former criminal (in Soviet times), who in his late years has settled down in the countryside to lead a true and honest family life. The production company ("Just a Moment" has shot the film and the producer was in Barcelona to seek interest and look for fresh eyes, an editor who can complete the film. In the audience several editors queued up to help to get the film to a rough cut stage – enabling several of the broadcasters to make a pre-buy.
Greek director Marianna Economou launched her "Flying Food" (previously presented and written about on this site) – a film about Greek mothers who make sure that their sons get good and healthy food wherever they live outside Greece. To be taken by plane to foreign destinations. The interest was big and the panel at DocsBarcelona was discussing whether the sons, who get the food should be in the film as well, and what about the girl friends of the sons, and the daughters of the mothers…