DocsBarcelona in Full Swing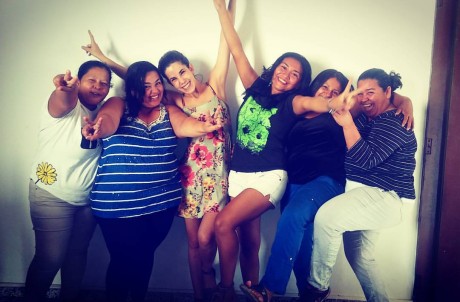 Indeed, that was a lovely Friday at the cinema – in Barcelona on the second day of full program. As one of the programmers of the DocsBarcelona festival, it is a pleasure to sit with the audience to see how it reacts to what we have selected. There were 8 screenings yesterday, I was at two and a half… no I did not walk out from one but screening schedules overlap.
Sooo… lovely it was to watch and enjoy Marlén Viñayo's "Cachada" with a numerous enthusiastic audience, that was totally seduced by the women, who take part in a theatre workshop, where they live out their traumas from childhood, the domestic violence and abuse they have experienced. Girls, they call themselves, the wonderful passionate big women with humour and the wish to share their feelings, to open their wounds to each other and the audience to whom they convey their stories in a theatrical version. Yes, films are appealing to your emotions and the old documentary addict, who is writing this text, was in tears at the end of the film, as were many in the CCCB theatre.
Marlén Viñayo, whose first film it is, was at the DocsBarcelona rough cut session two years ago, and from a film point of view it was great to see how the young director has managed to find her way of storytelling, her dramaturgy. The film has its European premiere at DocsBarcelona. It will travel!
Premiere – the same goes for "Operation Globus" by another young female director Ariadna Seuba Serra, produced by Guillermo F. Flórez with the local broadcaster TV3 as partner. I popped in to watch the beginning of a film, that was also at the DocsBarcelona rough cut session – and afterwards I had the pleasure to look at several versions of a film about men from my generation, who wanted to explore the world, 40 years ago. Great archive material, a looking back on an adventure and a friendship from the young years. They were all there, the protagonists, it is always interesting to see those, who took their time to be in a film… will catch up on their reactions as I had to hurry for
… "Privacy of Wounds", which is a Norwegian production with Palestinian/Jordanian Dalia al-Kury as the director being present. "I am happy if there are a bit more than 20 spectators", she said to me – there was three times 20, if I am not mistaken, who in total silence and concentration was watching and listening to three Syrian men, who in a cell in Oslo, made for the film, with the director as the prison guard (!), with 3 days of shooting, convey how it was to be in a detention centre in Syria. The film is excellent, with an amazingly intelligent approach that works, an aesthetic choice she had made to give us horrible stories that touches the heart and makes you think… how long is this going to continue. Oufff!