DocsBarcelona – Jordi Cuixart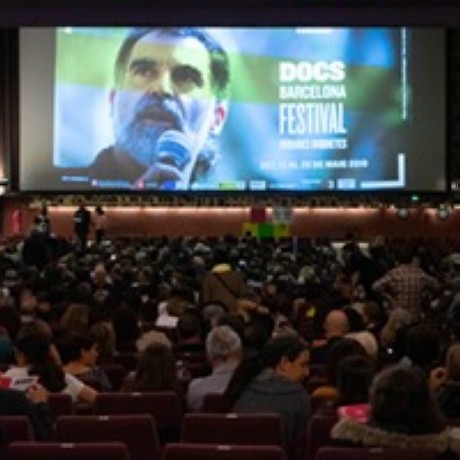 DocsBarcelona is making a political statement. The festival showed "Avec un Sourire, la Revolution" by Canadian Alexandre Chartrand, on the 19th to an audience of around 700 people, who gave the film and its message a standing ovation. AND the festival chose to use a photo of one of the emprisoned politicians, actually the one who is not a politician. I take a text from wikipedia on:
Jordi Cuixart i Navarro (Santa Perpètua de Mogoda, province of Barcelona, Catalonia, Spain, 1975) is a Catalan businessman and political and cultural activist. He is the president of Òmnium Cultural,[1] a non-profit cultural organisation founded in 1961 with more than 160,000 members and 40 local branches in Catalonia.[2] As part of his role in the pro-independence demonstrations prior to the Catalan independence referendum of 2017, he has been imprisoned since October 2017 under charges of sedition and violent rebellion brought by the Spanish prosecutor's office. Amnesty International believes his detention constitutes a disproportionate restriction on his rights to free speech and peaceful assembly, and urges Spain to free him.
http://www.docsbarcelona.com/en/doc/avec-un-sourire-la-revolution/