DocsBarcelona Pitching Forum Projects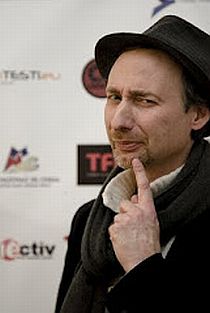 The opening was fun and sweet, clever, serious and thoughtful. Alessandro Negrini (photo), director from Italy living in Northern Ireland & Tor Arne Bjerke, producer from Norway, took the auditorium by heart and brain with their "Ballad of a Ghost Town" to be released in 2013 50 years after a natural disaster, only 3 years ago declared a man-made human tragedy destroyed five towns in less than seven minutes, killing more than 2000 people. The filmmakers go back to the Italian town and to the inhabitants. Great stuff!
As was the project that closed the pitching forum, "La fin du Monde", presented brilliantly by local director and producer Ventura Durall i Soler, who advised that the next DocsBarcelona better be in Bugarach in France because this is the only place that will survive the catastrophy that will hit the world the 21st of December of 2012. Nanouk Films is the company, Nanouk was the first documentary in the world, maybe "La fin du Monde" will be the last!
There were many projects that were well received, I can only mention a few here, you can see the titles of the selected projects at the website below, and google many of them for further information.
Juanjo Giménez Pena from Barcelona presented a wonderful cinematic project "Contact Proof", built on negatives and slides from the French photographer Pascal le Pipe, mostly Americana as I understood it. His director colleague from Barcelona, who has attended DocsBarcelona several times, Albert Solé, plans to go with charismaric Spanish science pioneer back to the Antarctica to revive "Frozen Memories". Polish Krzysztof Kopczynski presented the strong story, "Dybbuk", from Uman in Ukraine, where Chassids travel to celebrate Rosh Hashanah at the grave of Rabbi Rachman, and where clashes appear between the locals and the visitors. Italian Ivan Gergolet has a wonderful 90 year old Maria Fux, who helps people find themselves in "Dancing with Maria". Macedonian Atanas Georgiev charmed with "Funeral and Wedding Orchestra", like his previous "Cash and Marry" full of cinematic quality, humour and atmosphere.