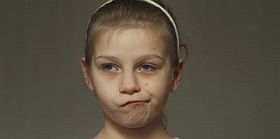 The festival is over, awards were given last night, again the Red Hall in the Cinema House in Kiev was packed with primarily a young audience full of enthusiasm. You may have head-shaking opinions about the architecture of the Cinema House and its many references to communist times but it is very practical to have two screening halls plus big corridors to socialise, a café, a restaurant and the festival office in the same building – with another venue 5 minutes away.
I was in the Docu/Life jury where we (Russian critic Lyubov Arkus, director Audrius Stonys and I) watched seven films of high quality, to give two special mentions and one Jury Prize. The mentions were given to Romanian Noosfera by Ileana Stanculescu and Artchil Khetagouri and to Latvian The Documentarian by Ivars Zviedris and Inese Klava. The motivations go like this:
Noosfera: A warm intimate close-up portrait of the excentric Nico, who as a scientist and a teacher conveys his look on the future of the world and love, trying to adapt his vision to his own life. The directors show great talent for catching everyday life situations and originality with respect and humour.
Documentarian: A hilarious and intelligent film about filmmaking, it raises all basic questions on the relationship between the one who films and the one who is being filmed. Inta is a film star, clever in her analysis of the film that
Ivars is doing, at the same time as she shouts her way to the hearts of the audience,
and out of her loneliness. She is a bitch, a witch and a darling!
The first prize we decided to give to Lithuanian Giedré Beinoriūtė for her Conversations on Serious Topics (photo). Motivation: … a film that through pure cinematic language and with respect and love takes us to the inner life of children and youngsters. You learn about life from this visually poetic film, you experience how we from the grown-up world treat our kids, but you also see how they are able to express their vision for a better world.
The other four films in the Docu/Life category, all of high standard, were The Bastard Sings the Sweetest Song, Dragan Wende – West Berlin, The Machine Which Makes Everything Disappear and Polish Illusions. For the rest of the prize winners in the other categories, please consult the excellent website of the festival. It has interviews, clever articles, reports, all about the films, including the closing film The Eleventh Year by Dziga Vertov in Ukraine in 1928, wonderful to watch for its playfulness in camera and editing, what a sense of rhytm, at this screening strengthened by music by local Anton Baibakov. A fantastic atmosphere there was for this event in Kiev on a cold wednesday night.Wow!