DocuDays New Ukrainian Documentaries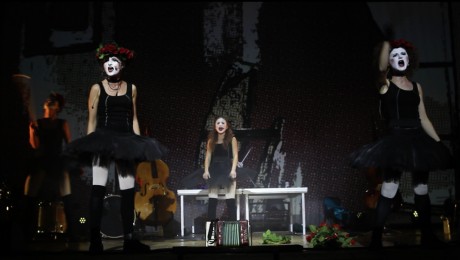 During the next year(s) you will see several Ukrainian documentaries at international festivals. It's moving in the right direction for the country's filmmakers, who want to express themselves in this film genre. There are – although limited from a Western European perspective – funds like the Ukrainian State Film Agency and the Ukrainian Cultural Foundation to go to, and there is the DocuDays festival that is instrumental for connecting the country's documentary makers with producers, festival representatives, sales agents and distributors, not to forget producers and directors from all over, actually. They come here to meet local filmmakers, listen to presentations/pitches, watch material and eventually help. Darya Bassel and Viktoria Khomenko who take care of the Industry Section of the festival make the guests work! Yesterday I heard from one of the guests, Mélanie de Vocht from the IDFA Bertha Fund, that she was signed up for more than 30 meetings, in the few days she is here!
I was invited to moderate the new invention of the festival, "Ukrainian Doc Preview", where seven films close to final cut, or already there, were
presented in a crowded cinema. The rules of the game: A slot of 25 minutes per film including an introduction, 15 minutes of visual material from the upcoming film, and some concluding words about production and expected release date. Followed by meetings in the afternoon with the professionals/experts in the room.
From my point of view this new element of the festival should stay and be developed. It is good promotion for Ukrainian documentaries, it is creating contacts and it takes place in a cinema so you can see images on a big screen. Much better than the usual pitching session with trailers and a hectic atmosphere because of limited time. To be continued, in other words.
The war in Eastern Ukraine was very much present in the films presented. "Peace for Nina" by Zhanna Maksymenko-Dovhych is a moving story about a woman, who lost her husband in the Soviet war in Afghanistan, and now her son in the war in Eastern Ukraine. She wants to find out, what actually happened to her son, she engages herself in a law case against those, who stood behind the killing and she wants to help other women, whose dear ones have died.
"Company of Steel" by Yulia Hontaruk deals with PTSD through three young men, who have returned from the war trying to live a normal civilian life. Charismatic they are all of them and Hontaruk showed great scenes.
The war or actually the wars are in the title of "Between Two Wars" by Alina Gorlova, who made "No Obvious Signs" (http://www.filmkommentaren.dk/blog/blogpost/4256/), presented here by Latvian Ilona Bicevska, who brought along a beautiful 15 minutes clip, b/w, reminded me of Juris Podnieks "Motherland", with the young muslim Suleiman in focus, him coming from Kurdish Syria to Eastern Ukraine, volunteering in Red Cross. Very promising and look forward to see what the director and the protagonist bring back from Kurdish Iraq, where she is filming right now.
Finished, moving away from war images, is Yuriy Shylov's "Projectionist". Will it go to IDFA or Leipzig or Karlovy Vary… this well made production by Gennady Kofman and Olha Beskmelnytsina, with Polish and German coproducers, that portrays a man of 64 years old – I survived the 63 year average age of a Ukrainian man he says – you see him in his projection room, taking care of his ill mother, getting ill himself, recovering, going to a sanatorium near Odessa. Hilarious scenes! Getting ready to fall in love again as the hairdresser says to Dirk Bogarde in "Death in Venice".
"Zarvanytsia" by young Roman Himey and Yarema Malashchuk takes you to a place in Western Ukraine, where thousands of people go for their pilgrimage. The two directors, educated as cameramen, have wonderful footage and interesting characters, now they are looking for a narrative flow.
Olha Zhurba, with "Roma", has this narrative flow already. She has been following Roma from meeting him on Maidan in 2014 until today, where the boy has grown to be a teenager turning 18 very soon. He was living on Maidan, he was in an orphanage, he has problems in reading, he had teachers in Maidan, he has teachers in the orphanage, he has done stupid things and risk to be put in jail if he repeats it. DOK Leipzig's Daniel Abma and I were enthusiastic about this upcoming documentary that the director so far has financed out of own pocket. An investment of time and energy from a talented director and editor. Bravo!
The cherry on the cake was "Roses. Film-Cabaret" (Photo) by Irena Stetsenko, presented very professionally by Oleksandra Kravchenko, with what I found to be a 15 minutes short film in itself, dynamic, energetic in all scenes, feminist approach, 7 women "from the freak cabaret Dakh Daughters Band", poetry, music, provocative and enjoyable from start till end. The film was invited to the Beldocs festival in Belgrade in May by the festival's Head of Industry Cem Öztüfekci, an obvious choice.