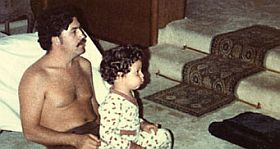 … means "Documentary of the Month" and is a strong film-cultural initiative for the distribution of creative documentaries for the audiences in around 40 cities of Catalunya, Comunitat Valenciana, Illes Balears and other Spanish cities. Since May 2009, The Documentary of the Month crossed the Catalan and Spanish borders and started its incursion in Latin America. Thanks to MEDIA's European Union project support, 3 theatres in Santiago de Chile opened. This is the beginning of a healthy relationship between Europe and Latin America. And this is history as I can witness here from Santiago de Chile
… where I meet the organiser of screenings that now take place in 14 theatres – 4 in Chile, 7 in Argentina and 3 in Uruguay. Her name is Alexandra Galvis and she proudly told me about the success of the screening of the poignant film by Nicolas Entel, "Sins of My Father" (Photo), that features Sebastian Marroquin, son of the gangster Pablo Escobar, in a reconciliation process with the sons of the fathers that were killed by his father. The film sold 2356 tickets in Montevideo in 4 weeks, a huge number for a documentary in the capital of Uruguay. The biggest hit in Chile so far is the film by Peter Greenaway, "Rembrandt's j'accuse", that still runs, also in Buenos Aires where more than 2000 has watched the British master's work.
Documentaries selection is decided by Parallel40 in Barcelona. I work for the company that is also responsible for DOCSBarcelona.
http://www.eldocumentaldelmes.com/en/documentals.html
http://www.pecadosdemipadre.tv/english/publish/preloader.html (excellent site with clips)
http://www.petergreenaway.info/