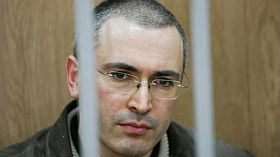 That Paris is the best cinema city in Europe is known by every film buff. Not only do all important new films arrive to the screen, but there are also "reprises" and "festivals", so you can always enjoy Fritz Lang, Vincente Minelli and early works by Polanski, at the same time as you see new films from the Middle East or from Poland.
If you buy your weekly Pariscope, you may want to count how many documentaries that run at the Parisian cinemas in the coming week: 30: From obvious titles like Frederick Wiseman's Crazy Horse to the strong German film by Cyril Tuschi about Khodorkovski (photo). From the German music film "Kinshasa Symphony" to "Pina" by Wim Wenders. To Swedish Göran Olsson's masterly archive documentary "The Black Power Mixtape" to the French "Territoire Perdy" by Pierre-Yves Vandeweerd. Many of the documentaries have only one screening per day or per week but they are available due to the good system that art cinemas like the MK2 chain run, where films are kept for a long time on the screens.
PS. Not a documentary, not at all, but if you get near a cinema in Paris or elsewhere and like British acting when it is best, go and see "Shame" by Steve McQueen with Michael Fassbender in the main role. It premiered here in Paris today.