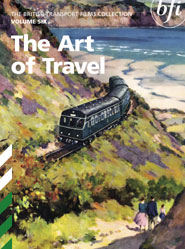 … is a genre in itself and perfect for film, as trains are movements from one place to another, a change in time or destiny, an escape from something or a journey to a better life, or a trip to the one and only. Or trains are there to bring letters to the rich and letters to the poor… as it sounds from Auden's poem in the classic of all train doc classics, "Night Mail" by Basil Wright and Harry Watt, 1936.
The British Transport Commission – together with the British Film Institute – has published a unique collection of its films over a period of 30 years from 1950 and "provides a unique insight into the changing social history of Britain". 125 films, 18 dvd's, 38 hours. In the promotion it is said that this is a "must for transport and (British) film-making enthusiasts alike".
Thematically organised, one of the dvd's carries the title, "The Art of Travel" – isn't it what documentaries can make us do – travel in time and human life conditions?
http://www.britishtransportfilms.co.uk/