Documentary Awards at Sarajevo FF 2021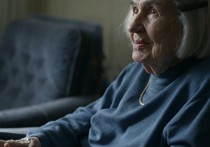 Jury:
Cecilia Lidin (Film Consultant, Denmark)
Jean-Pierre Rehm (General Delegate of FIDMarseille – International Cinema Film Festival, France)
Mila Turajlić (Director, Serbia)
HEART OF SARAJEVO FOR BEST DOCUMENTARY FILM
LANDSCAPES OF RESISTANCE
Serbia, Germany, France
Director: Marta Popivoda
Award in the amount of 3,000 €, sponsored by the Government of Switzerland
The cinematic solution to tell the story about 97 year old Yugoslav partisan Sonja Vujanovic is admirable. And her story is amazing and she talks so well, to the beautiful flow of images created by Ivan Markovic, edited superbly by Jelena Maksimovic. I watched and listened to the powerful old lady's anti-fascist journey from Belgrade to Auschwitz. What a woman. Courage. The director and co-writer, the grandchild Ana Vujanovic, however, want to link the partisan's story to their own activism of today. For me it becomes a bit "gemacht", does not catch my interest… get me back to the old lady, I was thinking.
SPECIAL JURY AWARD
LOOKING FOR HORSES
Netherlands, France, Bosnia and Herzegovina
Director: Stefan Pavlović
Award in the amount of 2,500 €
SPECIAL JURY MENTION
THE SAME DREAM
Romania
Director: Vlad Petri
HUMAN RIGHTS AWARD
LES ENFANTS TERRIBLES
Turkey, Germany, France
Director: Ahmet Necdet Çupur
Best film of the Competition Programme – Documentary Film dealing with the subject of human rights. Award in the amount of 3,000 €, sponsored by the Kingdom of the Netherlands.
Very good choice – a family film made by the director/cameraman who returns to the village in Turkey, where his siblings want to break away from the strict conservatism performed by the father. Made with love and painful understanding. You often feel embarrassed being with the family – that's strong.