DocuNotes from a Copenhagen Garden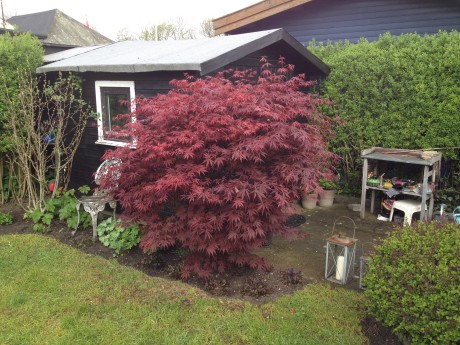 It's been a week since I posted on this site. My Mac needed a new battery. But in between the privileged isolation in our garden in Copenhagen with lovely weather and visit of the grandchildren before they today returned to school (which, alas, means that we can't see them for a long while as they could be surrounded by potential corona virus carriers), we have been watching the four part series on "Hillary", well made and actually quite interesting to see what the political power game did to a young enthusiastic and engaged lawyer, who wanted especially gender equality change to happen.
And we have enjoyed Danish icon Jørgen Leth, 83 years in upcoming June, assisted by his son Asger, read Danish poems from his isolation place in Dominican Republic. Every day he has picked poems by Danish poets he likes, now for almost 30 days, totally impressive to see this lovely, always committed artist bringing poetry to us Danes – thousands are watching and listening – to be found on the Facebook page of Jørgen Leth. His new film, "I Walk", premiered at IDFA 2019, still waits for the cinemas to open in Denmark.
Online possibilities… every day FB friends offer their films to be seen. Producers, directors, national film institutes and festivals of course. Amazing. CPH:DOX Online is still open until the end of this month, so happy to know that the festival managed to sell so many tickets – last number announced was 65.000 – DocuDays in Kiev starts in a few days, online, and the program is as always very strong – and the Nyon festival Visions du Réel goes on now, online, for the audience. Some films can be watched outside Switzerland, some on specific days, some are available only in Switzerland. The festival celebrates the work of Petra Costa, Peter Mettler and Claire Denis with retrospectives and masterclasses. I saw "A Horse has more Blood than a Human" and "We are Russia", both good political documentaries, the latter about young supporters of the opposition leader Navalny, who was not allowed to run for president. More reportage than creative documentary. I have been granted a press accreditation that gives me access to a Media Library from April 25. I plan to be looking for short films, a priority of the festival.
A week ago there were almost no leaves on the "Documentary Tree" as I call it – I got it as a gift from IDF (Institute of Documentary Films), when I stopped after 8 years as Head of Studies at their Ex Oriente. And now it flourishes. As does the documentary… I long for the big screen, for the theatrical and the festival shows of the documentaries but until then the online initiatives being offered are more than welcome. Use them !