Dogan & Eskikoy: On the Way to School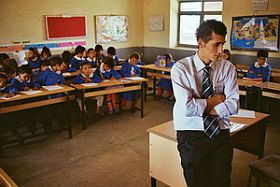 The Kurdish in Turkey – a long and complicated story about a people being suppressed. We have seen loads of news reports and some political documentaries about a conflict full of blood, and also for that reason it is nice to see this well made (beautiful cinematography, slow insisting editing, simple structure) documentary about a teacher, who arrives to teach Kurdish children Turkish, a language that only a few of them knows about.
Young he is the teacher, but committed to his cause; he wants to establish a contact with the children, and he "survives" that there is no running water at least in the beginning of his stay that in the film constitutes one year. There is a lot of "Etre et Avoir" in this film, but where Philibert makes a focus on specific children and folllow them, the two Turkish directors have chosen to let the teacher (could have been the title of the film) be at the centre, including his phone calls to his mother far far away.
"Happy is the one who says: I am a Turk". The teacher teaches them the words of Atatürk, so of course this film also shows the propaganda machine in function. What stays with me is, however, the fine moments between teacher and school children, and the discreet warm observation scenes in the poor homes of the parents.
The Netherlands/Turkey, 80 mins. World Premiere at idfa, 2008.
http://www.perisanfilm.com/en/index.html