DOK Leipzig 2011 – Helena Trestikova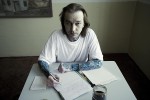 The industry part of DOK Leipzig introduced a session with three works in progress. I was asked to be one of the commentators of the first film to be presented, which was with Czech Helena Trestikova as the director, well-known for her "René" (photo) and "Katka" both written about on this blog. The new film of Trestikova, titled "Private Universe", is 90% finished as she put it, and as I saw it, 90 minutes long and in Leipzig more a fine cut than a rough cut. What I and colleague, American distributor Louise Rosen could say to Trestikova about the film was very simple: You have made another strong and important film, it has for sure a universal appeal at the same time as it, as a background, writes the history of Czekoslovakia from 1967 until today. We see 1968 images of the Soviet invasion, we see Gustav Husak talking to the nation, we see pathetic tv images of hosts wishing the nation a happy new year, we see images of the change in 1989. And all through the film the pop singer Karel Gott comes back once in a while to sing for us. His version of "Give Peace a Chance" is unforgettably original! "Private Universe" is the title, and also that is framed with archive footage of astronauts, the walking on the moon etc.
Since 1967 Trestikova has been filming the life of an ordinary Czech family with mum (Jana) and dad (Petr) and three children, one boy, Honza, and two girls, Eva and Anna. Honza is born in 1974 and he is the leading character in the film, the one that rebels when he grows up and the one, who leaves the country to live with a Basque women who has a child, rebellous as well. The film is told, chronologically year by year, and the drive of the film is a text, the diary of the father, Petr, so well formulated and with pictures taken by him and carefully put in the notebook. Petr reads the text himself, Trestikova has put him in a studio in front of a microphone, a very fine solution to accompany the images taken by Trestikova and sometimes also Petr himself, and later by Trestikova's son.
An audience attended the session. They were presented with a 15 minutes cut chosen by the director. It was apparently enough (or was it?) to see that here is a new masterly done film coming from the hands of Helena Trestikova, and this time not with a focus on people with alcohol or drug problems.