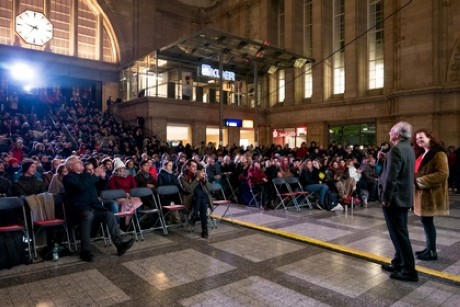 Full house in Cinestar, two cinemas with people ready to watch "Meeting Gorbachev" by André Singer and Werner Herzog. Two wonderfully short and good official speeches came from representatives from the city of Leipzig and from Sachsen. A longer one from festival director Leena Pasanen, relaxed, happy she was with the goal reached of having quite as many female directors as male at the festival already now, hoping that this example of equal opportunities could inspire other cultural institutions. She thanked the funders, of course, and made a fine statement on the "premiere circus" that the festival takes part in, an issue often mentioned on this site: why is it so important to have premieres, an absurdity Pasanen said even more so in times of coproductions, where one or more festivals have national premieres, others European premieres, others world premieres. Etc. This year we have introduced "late harvest" (in German Spätlese) to secure that the audience have the chance to watch films that have been going around succesfully to other festivals.
And Werner Herzog on stage introducing the film – co-director André Singer was not there but his son was Nick Singer, who made the music for the film. Before the film the organisers had found a funny clip with the young rebellious Herzog talking about filmmaking, a bit "peinlich" Herzog said, not at all, a fine reference back to a filmmaker, who if anyone has put his mark on German and world cinema.
The film has a kind and compassionate approach. Herzog, he says so in the interview, loves Gorbachev for his silent contribution to the reunification of his Germany, for his nuclear disarmament agreements with the Americans, for his positive attitude to the Western world.
To the interviews made by Herzog are added archive material and interviews, for instance with Lech Walesa, Hungarian Németh and George Schultz who was with Reagan at the famous meeting in Iceland concerning the reduction of nuclear weapons. There are some fine anecdotes in this historical part.
In that way it is obvious that the film wants to give the audience a historical background, fair enough as the film goes on television, for me who is old enough and knows the history, the most appealing is to watch and listen to the 87 year old man, sitting there, not in good health but open to say that it was wrong to give up the USSR, expressing worries for what is happening now in his country and elsewhere. Moving is the sequence were he talks about his wife Raisa – "when she died I felt that my life was taken away from me". A statesman yes, but also a human being suffering a loss.
https://www.dok-leipzig.de