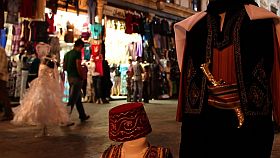 The festival in Leipzig also hosts several workshops, where documentary projects are being developed. Andrea Prenghyova, one of the founders of the IDF (Institute of Documentary Film) in Prague, presented for the second year, in collaboration with the festival, projects that were at rough cut stage, or at rough rough cut stage as one said to me, or finished. The session with the presentation of the projects were very well received, and it seems that the DOK.Incubator has come to stay.
Also the Mediterranean focused Storydoc programme had its final session in Leipzig. The workshop that include film proposals from Palestine, Algeria, Greece and other countries, is organised by the Greeks in collaboration with the EDN (European Documentary Network).
A film that came out of a workshop connected to Dox Box festival in Damascus had its world premiere in Leipzig. Lina Alabed, of Palestinian/Egyptian origin, presented her "Damascus, My First Kiss", shot in Damascus (where she no longer lives) with herself as the leading character in a courageously open and well told story about three women and their growing up in a culture where talking about your body and sexuality is a taboo.
http://www.proactionfilm.com/pkg09/index.php?page=show&dir=docs&ex=2&lang=2&ser=1&cat=168