DOK Leipzig Opening Night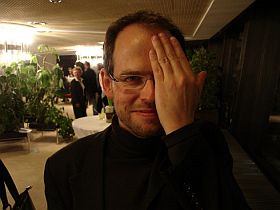 Opening nights can be very long with speeches and introduction of juries and honorary guests. DOK Leipzig is no exception. It took looong time to get people seated so the ceremony was delayed up front, and it did not help that the master of ceremony, head of programming at the festival, Grit Lemche, not the most obvious choice for that job, improvised to make a warm atmosphere, fine enough but to much internal small talk, that took time.
Before the film from Bangla Desh, see below, Claas Danielsen (photo), festival director, made his welcoming and film political speech, where he championed filmmakers and criticized current production and working conditions. "In many areas of the film industry, there is an imbalance of power that has the potential to push entire groups within the profession to the edge of economic survival," Danielsen said. Films often develop under exploitative conditions for writers and in conjunction with an enormous financial and personal risk for producers. The festival director criticized broadcasters, but also spoke in hopeful terms: "I envision a partnership-based approach that finally establishes a fair playing field for the work of creatives in all genres. We need filmmakers and writers who can make a living from their work." Danielsen also appealed to politicians: "We need real copyright protection for creative professionals – and politicians who will do all they can to protect their achievements."
At the opening festivities, the Danish film THE WILL by Christian Sonderby Jepsen was given the 2012 Doc Alliance Award. The prize is worth 5,000 euros and is handed out alternately at the six European film festivals that have formed the Doc Alliance.
Good for the Leipzig audience that they can watch a Danish documentary – otherwise idfa has taken priority to screen new Danish documentaries, 9 this year (!), which leaves out DOK Leipzig. Schade.