Doker 2021 Billie Mintz: Portrayal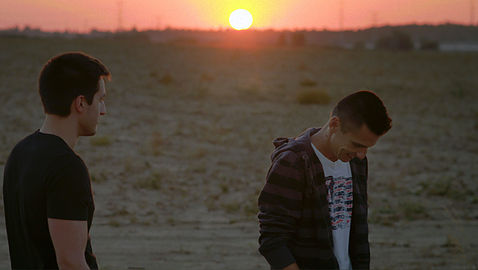 The Russian documentary film festival has chosen quite a story to open its 2021 festival. Well crafted and told, full of layers and conflicts with several strong characters. With the young Roman Lapshin as the one in focus. He wants to confront the artist Oz Almog, who had a world-wide success with portraits of well known Jews through exhibitions named "Index Judaeorum".
The exhibitions included hundreds of portraits painted by the Israeli artist Vladimir Dvorkin, the grandfather of Roman Lapshin. And he was never credited for the portraits, which carried Almog's signature. Roman wants the truth to come out.
The family is divided. Should the secret be revealed? They discuss in the family – the best conversations being between Roman and his uncle (photo); the latter finds it wrong to chase and confront Oz Almog for what could look like catching a thief as it is said in the film, where Roman travels from Toronto to Vienna to Tel Aviv and to Serbia.
Grandmother is alive and is worried about Roman's intentions… The scenes between her and Roman are touching.
The whole film is full of emotional ups-and-downs of Roman; it has become an obsession for him to meet Almog.
Does he? Yes, but no spoiler from me – would be wrong to tell what actually happens when the director effectively builds up to the meeting by giving the audience a parallel montage of a portrait of Oz Almog, who has quite provokative opinions on what art should be and the story of Roman's search for the truth – whatever that is, this psychological thriller also brings to the table.
Canada, 2020, 90 mins.