Doker 2021 Dér&Haragonics Her Mothers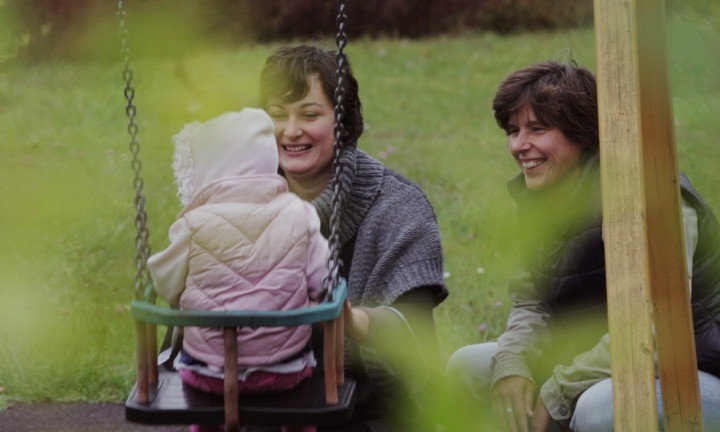 Oh, I Iove that film because it gets so close to the couple Virag and Nora that you can really sense their love to each other and the small and bigger crisis they experience, when they, a lesbian couple, succeed in adopting a girl, two and a half years old, Meli(ssza) and start bringing her up. I love when the directors Asia Dér and Sári Haragonics stay long at a scene, where Nora argues that she does not want to give Meli chocolate when she picks her up in the kindergarten – this is what Virag does. Chocolate or not chocolate, this is a normal situation that everyone can recognise, also this grandfather. The same goes for the goodnight scene, where Meli wants Mommy (Virag) to put her to bed and not Dada (Nora).
It's not that easy, words to that effect, says Nora, sad, with lesbian parenting. Especially not in Orban-instan, with a prime minister of Hungary, who is visually quoted with one of his stupid male chauvinistic comments.
I love that film because I can´t help love the couple thanks to the presence of the camera in the discussions and dialogues in the house that also includes three dogs! They are taking lessons in German, will they end up in Austria… is that a better place to be for lesbian couples? First of all, however, the film conveys the joy and happiness of the two, when they are able to add the motherhood to their love.
The rythm of the film is calm, no running after dramatic situations except for some footage from demonstrations framing the political landscape in Hungary. Whatever sexual orientation you might have, you can identify with the small or big problems you face in a family.
Hungary, 2020, 75 mins.