Doker 2021 Graboy The War of Raya Sinitsina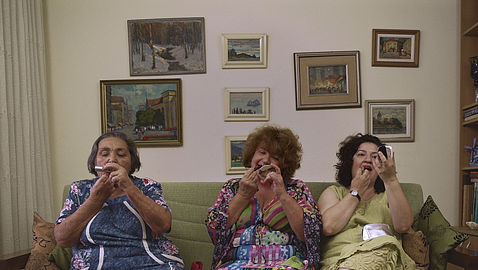 They make good documentaires in Israel. Here is one more, awarded at the DocAviv. The Best Director award as well as Best Cinematography. And I understand why: The debutant Efim Graboy works brilliantly with several layers and in different styles and it all comes well together in the good story that Raisa, 94 years old, but strong and not afraid to say her opinion or show her emotions, delivers to Fima, the name she uses for the director.
The language is Russian, the location is Israel (Tel Aviv?) and Raisa´s story goes back to the siege of Leningrad and the WW2, where she was a nurse. There are some, but not many, archive images from Leningrad, we know them from many documentaries, last one Blockade by Sergei Loznitsa. I was not scared in Leningrad, she says, I was young, but I am afraid now, she says, the charismatic war veteran with the many medals, still dedicated to celebrate Victory Day May 9 and still active at the veteran meetings, where fewer turn up. They have died but their faces stay on photos on the wall – and some are at home like the man, who turns 100 and gets a visit from Raisa and two other old Russian women. Raisa is a proud veteran, when she shows the director a greeting from Putin himself but now at the end of her life, she is more and more occupied with her dreams that she reveals to Fima. They bring her back to her youth and closer to Fima, whose camera again and again catches the emotions of Raisa. In many fine poetic situations. It feels like a fine choice, when the director places her in fields of sunflowers. Or at an empty concert hall playing cello for the first time in decades.
I was happy to have met Raisa Sinitsina. And it reminds me about the words of Lithuanian Audrius Stonys : We make documentary films to keep people alive…
Israel, 2021,