DOKer Shorts and Diagnosis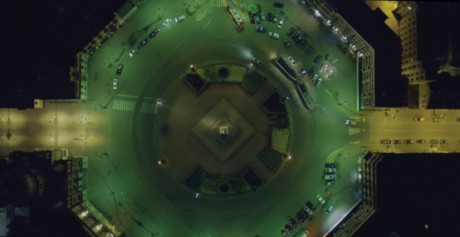 Getting into the October cinema from the noisy boulevard with the constant traffic jam in Moscow is a blessing. Again a lot of people were there to watch the first competition program of short films, and they were not disappointed. Four films of high quality, that's all I can write as a member of the jury.
I was thinking back in time, where I attended the short film festival in Clermont-Ferrand year after year, which mostly showed short fiction. Here in Moscow it's short documentaries that reach the screen and/or hybrid works. Film history has often pointed out that short films are the step to making longer films, feature length, it might be but I did not sense that with the four films I saw yesterday. They were finished works in themselves, strong stories, well shaped with sense of the cinematographic possibilities. Each with their own handwriting. Far from being student films. I congratulated the selector Nastia Tarasova for her choice and look forward to the films of today Friday.
After a good meal into the darkness again to watch a film from Poland, "Diagnosis", a documentary feature film debut of the director Ewa Podgórska and producer Małgorzata Wabińska. From Lodz, and that is an important piece of information as the film " is a journey into the depths of subconscious of a city formed by human beings", where some inhabitants undergo sessions on a couch, performed by a Frenchman – and from there the film takes its audience into the lives of the chosen characters, and slowly – in a puzzle-like narrative, where the characters through the editing are put to communicate with each other – you get to know that this is a film about la condition humaine. You are surprised, when watching the film and that's a compliment, the film director dares to break dramaturgical rules, it plays with emotions, it is fragmented, maybe the form takes over once in while but I was impressed and entertained (company name Entertain Pictures!). I was there with Finnish film couple, Iiris Härma (who made the wonderful "Leaving Africa" – http://www.filmkommentaren.dk/blog/blogpost/3154/ – and Visa Koiso-Kanttila, the latter director and cameraman praising the quality of the cinematography. Agreed! A Q&A afterwards focused on the film as a post-Soviet interpretation, not at all, it's the universal theme of Life and Love that is at stake.
http://en.pisf.pl/news/polish-creative-documentary-diagnosis-goes-to-idfa?wcag=1