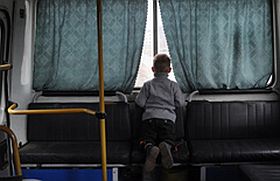 The night of making some people happy, others disappointed. The award ceremony to hand out more than 70.000€ and statuettes. Speeches and clips. Main prize, The Golden Dove, went to the Swedish film "Vodka Factory" by Jerzy Sladkowski (PHOTO), The Silver Dove to "Steam of Life" from Finland.
The Fipresci Jury, film critics, very rightly awarded "48" and the jury I was part of, the EU prize for safety workplaces (8000€) went to Tomas Kudrna for his "All that Glitters", which also got the prize for Best East European Documentary given by the local bnroadcaster MDR.
The German competition was won by the film "How to make a Book with Steidl", an intelligent and well made observation of the publisher,who works with famous artists like the photographer Robert Adams and the legendary Robert Frank and Günther Grass.
All awards and the jury motivations are to be found on