DOKU.ART 2 – Stanley Kubrick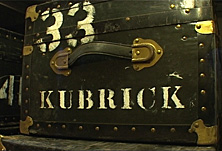 For lovers of Stanley Kubrick – and who is not? – the festival programmes a documentary by British Jon Ronson, made for Channel 4's True Stories, 48 minutes long. The text about the film and its background goes like this:
Stanley Kubrick's meticulous, painstaking research periods in preparation for a new film project became legendary. As the years went by, the time between films grew longer and longer, and less and less films were made by the director. Meanwhile, the world was waiting for a new Stanley Kubrick movie. What on earth was he doing? When Kubrick died in 1999 he left behind thousands of boxes of archive material. His estate near London was filled with boxes containing Kubrick's carefully documented life: scripts, research, correspondence, costumes, props, models, production schedules, photography, books and film equipment. Ronson takes us on a delightful and light-hearted stroll through Kubrick's archive, seeking to understand the enigmatic director through the things he left behind, and by speaking to those closest to him. Ronson asks: is it possible to get to understand the man – and his extraordinary working methods – by looking through the vast number of boxes that remain after his death? With irony and at times burlesque details, this is the first documentary to open some of the boxes, starting a process of study that will keep film historians working for years.