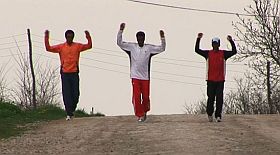 This is an announcement especially for our Danish readers about the screening tomorrow of Serbian Mladen Matičević award winning documentary "Run for Life" on the tuesday evening strand "Dokumania" on DR/TV. I will therefore switch to Danish language
Det er en varm og gribende dokumentar, som serbiske Maticevic har lavet. Den har vundet priser i Kroatien (ZagrebDox) og Serbien (Beldocs). Den havde sin verdenspremiere sidste år på idfa in Amsterdam efter en lang og besværlig produktionsproces, som faktisk er blevet en del af filmen. Sagen er nemlig den, at de tre etiopiske løbere, som filmen handler om, i en lang periode blev holdt for nar af den serbiske træner, som havde taget dem til sig. Eller var det de serbiske atletik-myndigheder? Ihvertfald løb de maratonløb efter maratonløb i håbet om at kunne få serbisk statsborgerskab, blive i landet og stille op til OL i London for deres nye land. Men intet skete og Maticevic, filmens instruktør og selv maratonløber, besluttede sig for at hjælpe dem. Han tager rundt med dem, køber mad og tøj, prøver at finde ud af, hvad der er galt – og laver en film om det. Med store vanskeligheder, kan jeg bevidne, som fulgte filmen fra sidelinien som lærer på EU-træningsprogrammet for dokumentarister, Ex Oriente. Ud af det er kommet en fin, menneskelig historie af universel karakter. Om mennesker der håber og bliver skuffede. Får nye venner i den serbiske landby de bor i, og som de må forlade. Se den!
PS. Dokumania's beskrivelse af filmen er i øvrigt meget mangelfuld, er tydeligt skrevet af én, der ikke har set filmen.
http://www.dr.dk/DR2/Dokumania#/13957