Doug Aubrey: Legacy of an Invisible Bullet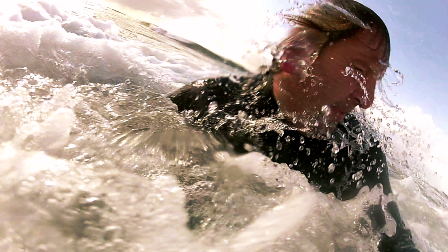 First some introductory words:
A filmmaker, Doug Aubrey, who has had a camera in his hands since he was a teenager, gets thyroid cancer. More than five years ago. He decides to turn the camera towards himself, he who his whole life has been filming social and political conflicts, been at many war zones, makes "an attempt to make sense out of my life, love, death, war and peace." He makes 170 short films (!), altogether 10h30mins, which are made into a feature (117 mins.) and chaptered into 16 films or videos. I have seen the feature and two of the chapters, both around 45 mins. This text makes a focus on the feature:
Doug Aubrey comes from Glasgow and lives now in Copenhagen with his partner, producer Marie Schmidt Olesen. Aubrey says this about his choice of storytelling: "Writing directly with a camera, rather than with words, I wanted to tell a story, in such a way that captured decisive moments in time – much as I have done in my observational filmmaking over decades. This has resulted in the completion of 170 short films. Pretty much from the outset, I collaborated and worked intimately with (Danish actress) Charlotte Munck, who became not just the voice of a subconscious but also a physical presence in some of the films: An Avatar if you like – expressing things I don't or can't.
And then secondly what I saw. What made me think "this is extraordinary, unique, have not seen a film like that for ages". Fresh and energetic in style, personal and rich in content, there is so much you can take from it. Strong scenes as well, where Aubrey invites you to get close to his operation wound.
It starts in a place where Aubrey's archive is stored up. In Glasgow. You hear the voice of Marie Olesen being amazed about all the diaries, the videos, his personal things: Are you not interested in what's in there. No, he says a bit irritated, " it's the past, the moment is what happens". Words to that effect.
And then the visual and sound bombardment starts. Of images, words, fantastic illustrations by Halfdan Pisket and a strong and varied sound score by T.S. Høeg (Dane TS Hawk). It's fast motion, it's slow long shots, often close-ups of the director and/or the avatar, it's surfing, it is in Glasgow, it is in Copenhagen at the Lakes, from the open window. Hectic you could call it, it is expressionistic, no better: the reflections on "my life, love, death, war and peace". Meant in the good way: One Long Selfie. By a filmmaker who thinks about death and go back to his punk period, to someone with the name Dawn, to be with his son Danny, who took him to surfing – there are nice scenes where the two look at photos of Danny as a child… Father Doug was not present very often, he was in some war zone, Danny says. And a filmmaker who thinks about where it could come from, the cancer. Many possibilities.
And there are clips from his films shot in the Middle East and in the Balkans. For me who has visited Belgrade for almost 20 years, images and conversations with (disillusioned) males and females, who were part of the opposition around 1990 associated to the B92, are very interesting and touching.
I was hiding behind the camera says Doug Aubrey. It was my armour. The film is indeed very much about filmmaking. In a couple of clips football coach Scotty Lee ("kids, don´t play with mines, play football"), with whom Doug has filmed in the Balkans, makes the filmmaker express what it is to have a camera in hand, to be a filmmaker, to observe as a true documentarian. To get the right shot!
This is not a "real" documentary, does that exist?, it is a hybrid. And the avatar Charlotte Munck takes the viewer around formulating – sometimes it is pure poetry – the film director's stream of thoughts going through his mind. Full of hopes, full of doubts, full of moments that also witness the sense of humor of Doug Aubrey. It is so well put in the press material:
"Making use of an existential surf analogy of the wipe out, hold down and surfacing to tell its story, LEGACY unfolds as a stream of short films exploring a real as well as an "inland geography" that is populated by fear, hopes, traumas, dreams and a creative imagination that's potentially facing the end of life."
I watched two of the chapters of "Legacy" as mentioned in the beginning of this text. In them you get more about Aubrey's family – there are wonderful scenes with his niece Dagmar, more with his son and with his brother and in one of them he decides to write a letter to Peter Watkins, the filmmaker who made "War Game", which was banned by the BBC in 1966. If anyone Watkins stands for the independent non-commercial non-conform cinema as does Doug Aubrey, who has made a film that is both very personal and very universal and for a film lover like me full of story-telling surprises, layers, humor and sensitivity.
One bullet, one pill…
Legacy… is an Autonomi production in collaboration with House of Real and Northern Souls.
Contact: Marie Schmidt Olesen marie@autonomimedia.com