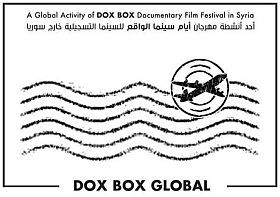 Syrian Documentary films will be screened around the world on March 14th, 15th and 16th, 2012: London, Berlin, Paris, NY, Prague, Tunis, Alexandria, Leipzig, Nuremberg, Marseilles, Cairo, Tangier, Marrakesh, Malmo, Copenhagen (see below, Danish readers), Montreal, Chicago, LA, Philadelphia, Vancouver, Kosovo, Thessaloniki, Beirut… and more…
Go to the facebook page below and get more information about the films. where and when. And see how widespread the support of the Dox Box festival is. It is all over and is a touchingly strong manifestation of a very important global sign of warm thoughts and solidarity with Dox Box. For what has been done with the festival and is being done by the festival staff to inform us about Syria today. New films will be shown and attraction is being drawn to what goes on in the country.
On the website of Dox Box letters are being posted from friends of the festival. This is what I wrote to Dox Box: "It goes without saying that there will be no DoxBox festival 2012. We will not go to the cinema in Damascus to watch films together in a crowded cinema hall. We will not meet during the day to talk about and develop new projects, or to find out about possibilities for collaboration, or simply to get closer to what makes a good documentary. A good film. I have in the first four editions of DoxBox been an enthusiastic participant and supporter of a film educational, film political, film emotional, film philosophical initiative that is unique not only in Syria but in the whole region. Because it has been organised with competence and strategy, heart and mind. DoxBox is alive and will continue. Noone can stop creativity".
Thank you Orwa, Diana, Guevara, Sasha, Dohan and other members of the staff!
http://www.facebook.com/DOXBOX
http://english.ahram.org.eg/News/36564.aspx