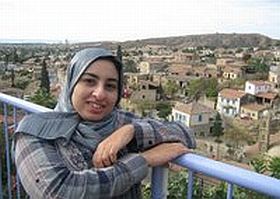 Three projects were given a financial support at the end of the presentation day at Dox Box Campus 2011:
"Brakes" by Bassel Shehade received the "Best Syrian Project Grant" of 6000$ (previous title: Female Wheels).
"My Uncle. "The Terrorist"" by Elias Moubarak from Lebanon received the "Dubai Film Market Development Grant" of 5000$.
"Woman With a Camera" by Karima Zoubir (photo) from Morocco received "Best Arab Project Grant" of 3000$.
More information on the winning projects can be achieved by contacting the Dox Box festival and Campus staff. Or me!