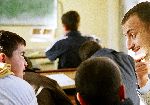 Second edition. Second time that Damascus has an international documentary film festival. The programme is enlarged, there is an industry section, sidebar retrospectives, it is all there. Impressive it is to be back.
Full house at the opening film, "China is still Far" by Malek Bensmaïl, shot in Algeria and dealing with the question of what it means to be Algerian. Let me give the floor to the director: " A school somewhere in the Aurés. Between the North and the South. Between an oasis and the steppe.I decided to set up my camera in a classroom of the last form of a primary school for a few months so that I could seize, through the look of the children as well as through that of their teachers and families, what has been passed on in an Algerian school, 50 years after the independence…"
It is beautifully shot, the children and their teachers are great, there are some very touching and funny moments between them, other sequences do not have the same focus and intensity, is felt to be a bit too long, but a very relevant choice for the opening of the festival.