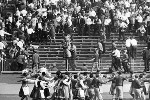 Orwa Nyrabia, together with Diana el-Jeiroudi the founder and director of the festival:
We considered 300 films. 90 of them we requested for the selection. 100 passed for the selection committee, 6 people, and out came the around 40 films that we show… a very democratic selection process in a country that can not be characterised as democratic!… was my comment.
But we (Nyrabia and el-Jeroudi) did the side bars, the two series called "Voices of Women" and "Voices of War". It is a festival for the audience, there is no other international documentary festival in the region, so we have no competition, Nyrabia says, this is why we do not refrain from showing films, that are not completely new. Great films that our audience has never seen before.
Which gives me the chance to re-watch the 1991 masterpiece by Polish director Maciej Drygas, "Hear My Cry" (photo) about Richard Siwiec, who in 1968 set fire to himself in protest against "the evil of tyranny, hate and lies possessing the world". As well as three films by Nicholas Philibert and others. Check the site of DoxBox.