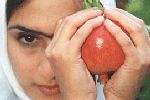 It is sometimes difficult to understand the mechanisms of censorship. I saw the funny, maybe a bit repetitive documentary by Massoud Bakhshi, "Tehran has no more Pomegranates", a playful and well made film about the big city, using wonderful archive, quite critical to the society in a soft ironic tone. I was told that the film has been screened in the national festival, and won a prize. When I was inTehran in 2000 several films were on the shelf forbidden for the local audience. But being shown abroad at whatever festival. So are times-a-changing? Or did the rulers just see that documentaries are not that dangerous?
Orwa Nyrabia, festival director at DoxBox, told me that there are many critical films shown in Iran, paradoxically some of these films can not be shown here in Damascus as the censors here do not want to annoy their allies in Iran!
Full house for this film, lots of laughter, always good to see humorous documentaries, is it not?