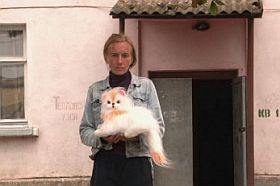 Sitting in Tbilisi I see a press release from the Danish Cinematheque that hosts a "Festival of Central and Eastern European Film" from October 24 till November 7. Among them the feature hit from Georgia, "In Bloom", but also several documentaries. Exciting selection.
Let me quote an interesting article by Ewa Mazierska attached to the press release:
"One problem which is not specific to Eastern Europe, but is felt there more strongly than in, let's say, France or Denmark, is the dying out of the province. This problem has to do, paradoxically, with the fact that still a large chunk of the population of Eastern Europe lives in the province; this being a consequence of delayed modernisation of this part of Europe. During the communist times the authorities usually limited the number of people able to relocate to the large cities by the rule that one has to be 'registered' there in order to live and work there. Under democracy, however, when one can, at least in theory, live where one wants, many people choose to do so, leaving behind their families and thus communities depopulated, impoverished and unbalanced in terms of gender and age. This problem is tackled in numerous Eastern European films, although often indirectly, as exemplified by Matchmaking Mayor (2010) by Erika Hnikova, Igrushki (2012) by Lina Luzyté and Night Boats (2012) by Igor Mirkovic. By and large, in the bulk of the films by Eastern Europe directors their countries come across as places to escape from rather than to visit and enjoy. However, less often than in the past this idea is transmitted in films about sex trafficking, as if to suggest that girls from Eastern Europe have learnt from cinema not to naively follow men from the West promising them paradise on the other side of the border."
"Igrushki" (photo) is in competition here at Cinedoc in Tbilisi.