East Doc Platform Karel Vachek…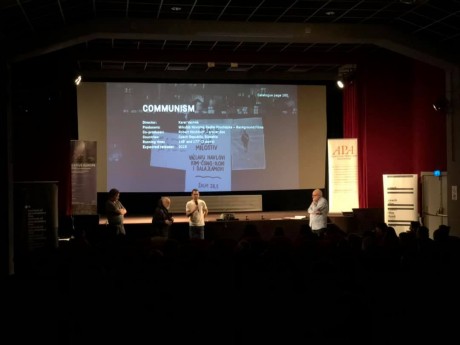 I had the pleasure of introducing 7 new Czech documentaries at the Institut Francais Tuesday afternoon. The last in line was legendary Karel Vachek, teacher at the FAMU film school, a man who was exiled after 1968, by some called the eternal dissident. 25 years he has been at the film school, he has made several interesting- and-difficult-to-grab documentary essays, and it was a film like that he presented helped by his producers Mikulás Novotny and Radim Procházka. "Communism" is the title as you can see from the photo taken by Filip Remunda. 9 minutes was shown from the upcoming film that will be 5 hours divided into four parts. Looking forward!
Remunda presented his own film that has already premiered at the One World Festival, "Czech Journal: The Okamura Brothers", three siblings of Japanese origin with one of them being an extreme right wing politician.
Greta Stocklassa, half Swedish half Czech, has made a film from up North, "Kiruna 2.0", that follows the moving of the city because of the mining. A film – taken from the clip shown – with a tone and interesting characters and amazing images of reindeer. It's her first film and it has been taken for the Visions du Réel.
The same goes for Johana Ozvold and her "The Sound Is Innocent", first film, selected for Visions du Réel – " The music is a game, a playground. And for creating the electronic music the main tool and toy is an instrument, a device, a machine…".
"Dálava" by Martin Marecek is in good hands with the HBO's Hanka ​Kastelicová – and judging from the three clips/scenes shown (clever way of presentation) the film with a father and his son will be full of atmosphere.
The same with "Another Chance" by Eva Tomanova. You fall for Monika, who is one of many, who has been the victim of Mirek, a marriage swindler – they get a child together, he is in prison, he gets out, how will it develop?
… and Karolina Peroutková, a Famu student of Miroslav Janek, presented "The Call of the Wild" and her relationship to the main character, a young boy, who is breaking the rules of the society: "Michael is twelve years old. He has seven siblings and lives with his parents in a small house in a small town. Michal often hangs around the streets of the small town, where I (the director, ed.) live. "He is a rascal and a rogue," say the locals…
https://dokweb.net/database/films/synopsis/95428715-e22e-46e1-b761-164373370dac/communism