East Doc Platform Project Awards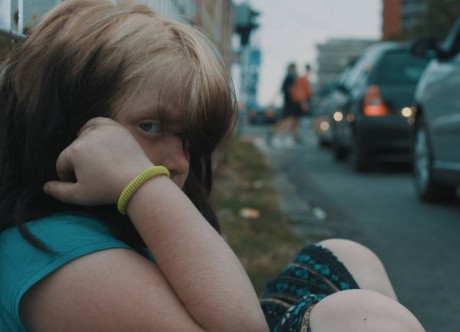 It was much appreciated and welcomed that the main winner yesterday, after the East Doc Forum at the East Doc Platform, was the Serbian/Croatian project "Museum of the Revolution" that has Srdan Keca as director and Vanja Jambrovic as producer. I met the project at ZagrebDox, where it also won an award given by HBO Europe. It is very inviting, the material I have seen, and that Keca is a documentary director with an eye, you can see immediately. In Prague director and producer told me about the plans of building a museum of the revolution in 1961, in Belgrade, it failed because of funding, if I got it right; the architect Richter from Croatia had ambitious construction drawings – in 1978 the idea was put forward again, the foundation of the building was constructed but two years later Tito died and everything about the museum for revolutions around the world collapsed. Keca has filmed at the place, where the museum should have been.
The girl on the photo is Milica, she often lives there with an old woman Mara,
and with her mother Vera, a drug addict. Keca has the idea to follow the three around a Belgrade, that is changing, making it impossible for the three to have a place to stay. So the film will be about the past, the museum, the people and Belgrade today that with money from the gulf states are going in a direction that many find totally wrong.
It is indeed a very promising film project that also got an invitation to go to IDFA 2019.
Below you find the awards, I would also draw your attention to the projects that is invited to DocsBarcelona, the Ukrainian "Fragile Memory" by Ihor Ivanko. I have taken a quote from the description, must please all film buffs:
"A famous soviet cinematographer Leonid Burlaka, who worked at Odessa Film Studio since 60's and shot iconic soviet films such as "The Meeting Place Cannot Be Changed", suddenly gets diagnosed with Alzheimer's disease.
At the same time Ihor, his grandson and emerging Ukrainian cinematographer, accidentally finds a hidden and heavily damaged part of grandpa's photo archive: film rolls of masterpiece pictures portray the life of Soviet youth in the early 1960's Moscow. The portrayal is highly subjective and informal – in a contrast with the known state-produced archives of that time…"
East Doc Platform Award
Museum of the Revolution – Srdjan Keča (Serbia/Croatia)
Production companies: UZROK, Restart
Honourable Mention
Wolves on the Borders! – Martin Páv (Czech Republic)
Production company: Frame Films
HBO Europe Development Award
The New Imperium – Anna Shishova-Bogolubova (Russia)
Production company: Ethnofund
Czech TV Co-production Award
A Marriage – Kateřina Hager, Asad Faruqi (Czech Republic/USA)
Production company: Bohemian Productions
Golden Funnel Award
Olympic Halftime – Haruna Honcoop (Czech Republic/Slovakia/France)
Production companies: D1film, VIRUSfilm, Grab the Cat
Current Time TV Award
Untitled Rastorguev Project – Susanna Baranzhieva (Russia/Estonia)
Production companies: TVINDIE, Marx Film
IDFA Forum Award
Museum of the Revolution – Srdjan Keča
DOK Leipzig Co-production Meeting Award
The Pit – Nikolay Bem (Russia)
Production company: Siberian Studio of Independent Cinema
DOK Leipzig Preview Award
Bottlemen – Nemanja Vojinović (Serbia)
Production company: Rt dobre nade
Sunny Side of the Doc Award
Olympic Halftime – Haruna Honcoop
Docs Barcelona Award
Fragile Memory – Ihor Ivanko (Ukraine)
Production company: Babylon '13
Sheffield Doc/Fest Award
Kiruna 2.0 – Greta Stocklassa (Czech Republic)
Production company: Analog Vision
More about all the projects to be found on: