Edinburgh Documentary Pitch/1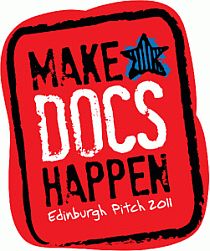 There is a lot of film political commitment and competence in the activities of the SDI (Scottish Documentary Institute). The small staff (Noë Mendelle, Sonja Henrici, Flore Cosquer, Amy Hardie and Finlay Pretsell) stands behind the talent development production scheme Bridging the Gap, several masterclasses with great filmmakers from all around the world, they publish a well written and edited newsletter, they have their office in the ECA (Edinburgh College of Art), where students are studying to become filmmakers under the leadership of filmmakers Emma Davie and Noë Mendelle.
I was there for the Edinburgh Pitch, for the two first days to tutor and moderate the pitching session that had a panel of 14 commissioning editors and distributors representing Autlook from Austria, BBC Scotland, Storyville BBC4, True Stories More4, CBC Canada, Lichpunt Belgium, DR Sales Denmark, YLE Finland, Creative Scotland (previously Scottish Screen), POV USA, Cat & Docs France, ZDF/arte, VoDo UK, Al Jazeera.
There was quite an international choice of projects, including one from Uruguay, one from Brazil, one from Israel, two from Finland, an Australian/Norwegian, an Irish, a French, and some Scottish and English.
SDI is on twitter, go to the site and join the conversation.