Ehrlich/Goldsmith: The Most Dangerous Man..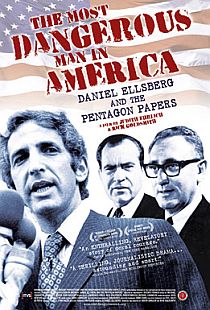 It is difficult to dislike Daniel Ellsberg, and why should you? An important name in new American history, a whistleblower, a man who was among those whose job it was to provide Robert McNamara with plans for an efficient war in Vietnam, and a man who saw how his superior lie to the American public, as did Lyndon Johnson. He changed his mind, and his life completely, by publishing the so-called Pentagon Papers – and became an example, some would say the example of non-violent civil disobedience. And he still is around when it comes to demonstrations against US in Iraq and Afghanistan – take a look at his website.
The film tells the story about a conscientiuos objector in a classical way, as the filmmakers have said it themselves: a three act character-driven drama, that uses interviews, archive material and the voice of Ellsberg to take us through his own story. He makes references back to his childhood and the tragic death of his mother and sister because the father fell asleep while they were out driving. And there is a constant love story running in the foreground through interviews with his wife Patricia, who is at his side in the numerous archive interviews with him back in 70'es. It is all very efficiently told with music and small reconstructions that help give the film a drive.
The film goes out theatrically in the US, is nominated for an Oscar 2010 (got a Special Jury Award at idfa 2009), let's see if it will win as did Errol Morris in 2004 with his film on McNamara, "Fog Of War", a much more authored film than the one on Ellsberg… interesting now to have a film on the war criminal and one on the activist and whistleblower, a very charming and charismatic character in a well crafted documentary.
USA, 2009, 96 mins.
http://www.mostdangerousman.org/
http://www.guardian.co.uk/tv-and-radio/2010/feb/16/most-dangerous-man-in-america