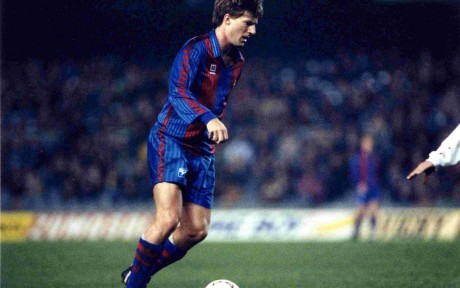 "It's exactly one week until el clásico and, like all fans, I am already counting down the days until the big date of December 18. A clásico is always a special match, and in the weeks before the game it shows in the atmosphere.
They are things that I have experienced as a footballer. And not only when I was at Barça or Madrid. Also in Italy, Holland and Denmark. They are matches which evoke very strong feelings and the supporters make you feel that way. That you have a great responsibility…"
The words come from Michael Laudrup, the best football player Denmark has ever had. He played in both FCBarcelona and in Real Madrid and had more than or was it close to 100 matches for the national team of Denmark. On the website of FCBarcelona he writes – brilliantly – about his experiences as a player, who several times played THE match in Spain…
Which will again be played tonight at 8pm at the Camp Nou in Barcelona. If… the demonstrators allow it. And if they do so there will be a strong expression of Independencia from the 90.000, who are expected to come tot he stadium.
I will be watching on television – Messi please, show your genius again, but I will also enjoy Karim Benzema, this great centerforward from Madrid, and I will cross fingers that the man who should not be allowed to enter a football pitch, Sergio Ramos from Madrid, will behave and stay away from his normal dirty attacks on the opponent.
Here is the link to the Michael Laudrup article, read it before the match:
https://www.fcbarcelona.com/en/football/first-team/news/1526527/in-my-own-words-michael-laudrup