Elita Klavina: Zoryana Horobraya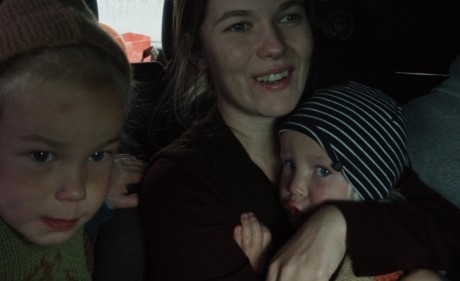 When in Riga for the Baltic Sea Docs, producer Antra Gaile told me about a film that she and Liga Gaisa joined as co-producers, directed by actress Elita Klavina, whose diploma work from the Latvian film school it is. I received a link as I could not attend the Message2Man Festival in Saint Petersburg, where the film had its world premiere this week:
It is a fine piece of observational documentary. Through several seasons the director has returned to the house in the countryside, where Zoryana Horobraya lives with her husband, a boy, and later one more little boy, and her mother, who is the one, who built the house and set up a small paradise for herself and her family, the right place for children to grow up, close to nature with huge acres as their playground. But it is far away from the city and to bring up a family you need money, and money you earn in the city… A classic conflict, city-countryside, becomes in the film, where you are very close to the family, precisely a conflict in the family. Granny is not happy that the family – her daughter-the husband-the two small kids – moves to Riga.
You get very close to the family. The camera catches all the details of the house and the naked kids running around among cats and dogs and goats. The grandmother talks with passion about the freedom she enjoys away from the crowded, stressed city-life, she is proud of her place, and afraid, without saying so, to be left alone, actually quite bitter when they leave.
Here is the catalogue description from the festival M2M, that ends tomorrow : "Young Zoryana lives in the countryside with her husband Edgars and her mother. She does the housework, plays the piano, raises a child and works at a computer. This idyll has to end, though: the family wants to move to Riga, where her husband works at a fast food joint and urban conditions allow raising children "like everyone else." Zoryana's Russian mother dissuades her from living "in cages." Zoryana is torn between the wishes of her husband and her mother…".
The Russian festival also notes that the film unfolds the cultural differences, where the granny represents Russia and the daughter and her family the Latvia of today. Could be, but I don't see that, I see a universal theme popping up.
Latvia, 2019, 61 mins.