Emmanuel Laurent: Two in the Wave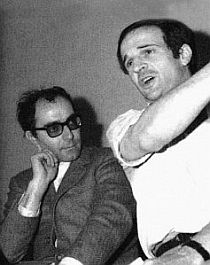 A tour down memory lane. And can't help it – It still brings a tear to the eye to watch Jean-Pierre Léaud run towards the sea, stop and look at us in the end scene of "The 400 Blows", the first long film of Truffaut from 1959. As it brings a smile to watch Jean-Paul Belmondo do his Bogart face imitation in "Breathless" by Godard from 1960. Or see Jean Seberg stand in front of a poster of a painting by Renoir. It was in the 60'es I got my film education and La Nouvelle Vague with Truffaut and Godard were my heroes followed by Agnès Varda, Eric Rohmer, Jacques Rivette (later) and Claude Chabrol. So this film by Emmanuel Laurent could only be pure pleasure, and it was.
The idea of the film is to give us the story of two friends, who met each other in 1949, worked together for years, wrote critiques in Cahiers du Cinema, had their heroes (Truffaut: Hitchcock, Godard: Rossellini and Lang), fought against the dismissal of Langlois at the Cinématheque, and were on the barricades at the festival in Cannes in 1968 as well as in the streets of Paris in May the same year. And then the break came with the famous letters – Godard who attacked Truffaut in connection with "Day for Night" (La Nuit Américaine) for being a liar, getting back a 20 page letter against Godard turning political. (The letters can be read on the French website below).
As film history, with clips from the films, with a lot of archive interviews with both of them, it is all there and well put together. Whereas the core/red thread of the story with Jean-Pierre Léaud as the kid and young man with two fathers, not only being the "petit frère" of Truffaut, the Antoine Doinel, but also the marxist agitator in several of Godard's political works, is not really convincingly integrated in the narrative, even if it is a brilliant and more than relevant approach. Another detail that does not work is the presence of a young female director of today, who walks around "discovering" what happened then. Could have done without that in a film that otherwise calls for another view and is a Must-See for all film students. And thanks for the end:
Jean-Pierre Léaud at the casting for the role in "The 400 Blows".
France, 2010, 93 mins.
http://www.boxoffice.com/articles/2010-05-emmanuel-laurent-talks-two-in-the-wave
http://coulissesdelaculture.wordpress.com/2011/01/18/«-deux-de-la-vague-»-cinema-politique-et-le-desamour-artistique-de-godard-et-truffaut/