Erika Hníkova: Matchmaking Mayor/ 2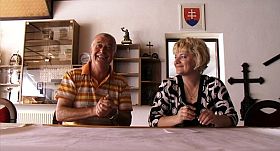 Det er mildest talt ikke hver dag at en tjekkisk/slovakisk dokumentar finder vej til en dansk biograf. Men her er én, takket være de brave folk fra Øst for Paradis og Gloria i Aarhus og København. Den har premiere i morgen, den 23. august. Vi bragte en anmeldelse af filmen i april 2011, her gentages den:
It is not the first time a film about a village with unmarried singles is being made these years. Seems to be a trend! And as the Greek one ("Sugartown") and the Serbian one ("Village Without Women") this one from Czech Republic, taking place in Slovakia, is warm and sweet to experience. At the same time as it is describing a provincial community, where daughters often stay with their mums and sons with their mothers as well. The older generation claims that they would love to see their children married, at the same time as they want the grown-up kids to stay at home, simply for their own sake, to avoid loneliness. The mayor, a former general, does what he can, but is not very succesful neither with his attempt to matchmake through a party planned for months, nor with his speeches that reaches the population via loudspeakers on every street corner.
The director's voice is heard, when she goes around to make first hand research. She asks questions on our behalf, she enjoys the confidence of the characters and gets good material to bring home. Something happens to the characters during the film, we get closer to them, but real close, no, there are still a natural lot of shyness when it comes to love. And there should be, this blogger thinks. Zemplinske Hamre is the name of the village, probably the one and only time you hear about it!
80 mins., Czech Republic & Slovak Republic.