Errol Morris on The Act of Killing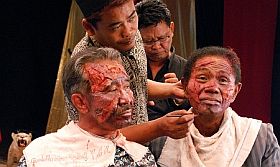 New York Times brings a long article about "The Act of Killing". Errol Morris, credited, as Werner Herzog, as executive producer, has these words about the film, when asked if it is a documentary:
""Of course it's a documentary," he said. "Documentary is not about form, a set of rules that are either followed or not, it's an investigation into the nature of the real world, into what people thought and why they thought what they thought."
But Mr. Oppenheimer (Joshua O. directed the film) offered a more nuanced view. He distinguishes between the observational style of the film's first half and what comes after it pivots to the re-enactments.
"I think it almost stops being a documentary altogether," he said. "It becomes a kind of hallucinatory aria, a kind of fever dream." At that point, he added, the film "transcends documentary" and becomes a strange hybrid creation.
But no matter what you call it, Mr. Morris said "The Act of Killing" was a work of art. Prefacing his remarks by saying, "I think I can speak independently of my role as executive producer, because I have no financial interest in this film," he continued: "The most you can ask from art, really good art, maybe great art, is that it makes you think, it makes you ask questions, makes you wonder about how we know things, how we experience history and know who we are. And there are so many amazing moments like that here." "
http://www.nytimes.com/2013/07/14/movies/the-act-of-killing-and-indonesian-death-squads.html?pagewanted=all&_r=0