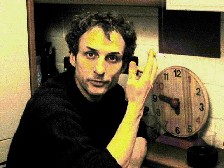 Italian director Alessandro Rossetto came to Hotel Biograf to show his 1999 documentary Bibione Bye Bye One, which is a wonderful b/w 75 minutes long journey into an area and a culture that the director knows from his childhood, 100 kilometres north of Venice.
In a very inspiring talk after the film, Rossetto told how he had been filming over three summers with 2 hours of 16mm material in the first summer, 6 in the next and 3 in the last. He had already edited a one hour version after the two summers of shooting but was not happy with the result returning to the summer resort to catch scenes that he knew he wanted. 5 years before the shooting of the film, Rossetto had done his research by doing 2 years of photographing people and situations. The film is indeed about people, showing faces, built through small stories with characters that are caught with the tenderness that the director kept on saying that he went for. To lose time can be a richness for a project, he said, urging the workshop participants to "protect" their first idea of a film, it could have a deepness that you can not explain. And waiting please, waiting is important, just stay there and you become a character as the others, the man with the camera. And thus you get what you want.
The film is for me a neo-classic, reminding me about Lindsay Anderson's O Dreamland with an absolutely great camerawork where you feel that you are drawn into a world that you don't know and at the same time feel good to be in, accompanied by music that stress atmosphere and timelessness. Robert Frank has been mentioned as a photographic inspiration for the film from Bibione.