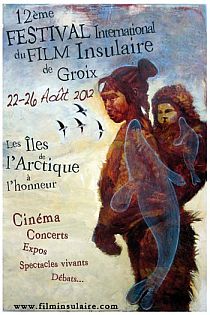 … yes, what does that stand for? The answer is Festival International du Film Insulaire, taking place on the island of Groix that lies in France in Brittany. From August 22 to 26 the 12th edition of this festival takes place with, as the name indicates, a focus on films on and from islands, all film genres included as well as concerts, exhibitions and debates. Regret to say that I had never heard about the festival before I – due to Marie-Clémence and César Paës – ran into two of the organisers last December in Paris. The catalogue is out now – you can download it via the website – and it is not only very beautiful to look at, the cinematic content is impressive, including the premiere of the new film of above mentioned couple Paës behind Laterit Productions ("Mahaleo" and "Saudade du Futuro"), "L'Opéra du bout du monde". Here is the introduction of the organisers to this pearl of a festival:
À chaque édition une nouvelle destination. Nous avons ainsi abordé par le passé des îles des quatre coins du monde, de Madagascar à l'Islande, de Cuba à la Nouvelle Calédonie en passant par les Marquises, le Sri Lanka, le Cap Vert et bien d'autres encore.
Cette année nous avons choisi de partir dans l'Arctique, à la rencontre des Inuit du Nunavut et du Groenland. Nous avons choisi ces destinations pour leur Histoire commune, celle des Inuit, de la sédentarisation, des effets du réchauffement climatique, du choc des générations et de la difficulté d'allier tradition et modernité. L'Arctique en a fasciné plus d'un, des chercheurs, des aventuriers, des réalisateurs, et aujourd'hui c'est notre festival qui s'y intéresse avec l'envie de partager, ici à Port Lay, leur culture et leur Histoire.
Si nous consacrons une large partie de notre programmation à nos invités de l'Arctique, nous n'oublions pas pour autant les îles du monde entier qui sont au cœur de notre thématique depuis les débuts de notre festival.
PS. The other day one of the organisers – like so many rightfully did – Chris Marker, whose "Sans Soleil" was screened at the festival in 2005.