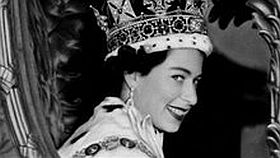 "Your online documentary cinema". This is how the excellent vod Doc Alliance Films characterises itself. Based in Czech Republic at the address of IDF (Institute of Documentary Film), they are doing great work. The selection of films available is indeed a feast for the documentary lover. Newly added titles are "Cave of Forgotten Dreams" by Werner Herzog, "Avenge, but one of my Two Eyes" by Avi Mograbi and "The Arrivals" by Claudine Bories and Patrice Chagnard.
However, this week, Doc Alliance goes royal to celebrate the sixty year rule of her Majesty Queen Elizabeth II (!) by offering classic British documentaries for free. So here you go, take a lesson in film history, start by reading this very fine introduction from the Doc Alliance site:
The two most significant periods of British documentary film to enter the world's history of cinematography are the British Documentary Movement and the Free Cinema movement. Financed by state institutions as well as big private corporations, the filmmakers of the British Documentary Movement conceived their work as public service. They were choosing among the wide range of themes resonating inthe British society, focusing primarily on the changes the society and its various strata were undergoing at that time. The film methods they employed varied greatly. Although their works are associated with the term of documentary film, today they would rather fit the docudrama genre (a documentary genre making use of stage-managed situations, reconstructions of real events). However, their works primarily shared the immense interest in the depicted subject accompanied by an attractive and intelligent film form. That is what secured them a constant attention of their spectatorship.The DAFilms portal introduces the following famous films of the British documentary school: Night Mail with the score by Benjamin Britten and verses by W.H. Auden; Drifters by ideologist of the British school John Grierson; Industrial Britain by legend of the documentary genre Robert Flaherty; and Fires Were Started filmed in the heavily bombed London in the middle of the war by Humphrey Jennings. In the Docalliance selection, the Free Cinema movement is represented by the "swinging" Mama Don't Allow by Tony Richardson and Czech-born "Winton's child" Karel Reisz. Richardson as well as Reisz are significant representatives of the movement who later became famous for their fiction films, some of them further developing the Free Cinema principles. From the works by Karel Reisz, we further present We Are Lambeth Boys, a portrait of everyday life of youth from London's working class Lambeth borough situated on the Southern bank of the Thames. Both films belong among the significant short documentaries made at the very beginning of the movement.