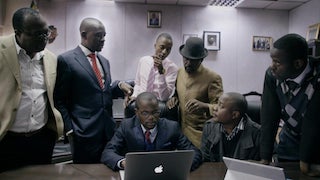 It's all there: Competitions, Industry events, a focus on Benelux – and it's all superprofessionally conveyed at the website – www.fipadoc.com
Is it like any other international documentary film festival? Yes, with national and international, short and long films and the industry including presentations and possibilities to meet colleagues.
No, where the festival differs – there is a category named "Impact Documentary", one called "Smart" (VR, web…), "European Stories" (France is leading the EU this first half year, happy to see "Altsasu" and "Dida" here) and there is an homage to Heddy Honigmann, one more I think of the many dedicated to this great "auteur".
A quick look at the international competition that brings high quality to the screen, with no rules about world premiere etc., except for "unreleased in France", in other words the films have their French premiere in Biarritz.
Among the titles, that I have seen, are "A Thousand Fires" by Saeed Taji Farouky, Sergei Loznitsa's "Babi Yar. Context", the CPH:DOX winner beautiful "The Last Shelter" by Ousmane Zoromé Samassékou, master Pawel Lozinzki's charming and thoughtful "The Balcony Movie" and my favourite Danish documentary of 2021 "President" (PHOTO) by Camilla Nielsson. Another Danish documentary that will have its premiere in Danish cinemas end of this month (if the cinemas re-open…) is talented Andreas Koefoed's "The Lost Leonardo".